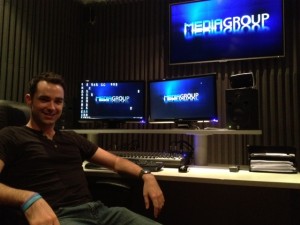 Did you know Corporate Sound is home to 6 state-of-the-art recording studios? Our facilities are of the highest standard and have been custom built by our audio engineers; designed with sound proof walls and featuring the latest recording equipment and software in order to produce the most professional audio recordings for your next corporate project.
Your audio advertisements, whether they be for radio, television or for a corporate presentation or induction video is a representation of your company, and we understand that you want to make a lasting impact.
IF professionalism is important to you, then you will probably also be interested in our recording studio hire. Not only will you get full use of our recording studios, but you will get full use of one of our expert engineers who will help produce your production. We have a large library of voiceover talent should your require the services of a professional voice actor, of if you're feeling game, we are more than happy to direct you with your narration.
Our producers and engineers have all worked in the Australian broadcast industry for many years, and they have the expertise to guide your through your session and help you produce an audio production you can be proud of.
Call us today and ask about hiring our recording studios for your next audio production. Contact us today on 07 5551 0260.