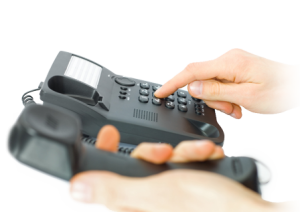 Ever called what you thought to be a professional organisation, only to get a telephone voice message that had loud noise in the background, and a message that didn't quite make sense? How did you then perceive that company and staff member? Probably not good hey? When you're paying a fortune to get your phone lines to ring, it makes sense to invest a little time into ensuring your staff are keeping their voice messages professional.
Seriously, it only takes five minutes to record a voice message. Make sure you reiterate to your staff the importance of keeping their voice messages up-to-date. At the end of the day, it will make both you and your staff sound much more professional and organised.
Seriously, it's so frustrating trying to call someone, then being greeted with a voice message that doesn't belong to them, or a message saying they are on leave and will be back on such a date – and that date was a week before you called. When staff are allocated a new desk, the first thing they do is up-date their voice message. And the same when they return from leave.
It is also really frustrating when you are trying to get in contact with someone, and they refuse to return your call. If your voice message insinuates that you will call back, make sure you do. If you get a lot of calls for advertising (this is a great example), leave a quick message asking the caller to email a proposal to you and you will get back to them if you are interested.
It is also really important that you get staff to state the name of the company and their name on their voice message, so that the caller can be sure that they have reached the right place.
It's simple things like this that can really make an improvement and make you and your staff appear so much more professional.
Corporate Sound is a dedicated and professional audio production company, and if you are looking for the ultimate in professional voice messages, we can certainly do up a production for you. For more information about audio productions, voice overs and telephone message on hold productions, please call us on 07 5551 0260.